Caravan & Motorhome Site Specific Guidance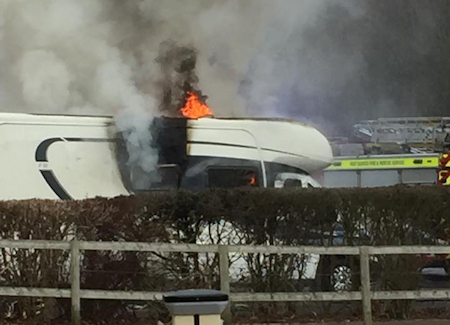 Motorhome Fire
The purpose of this page is to provide more detailed information on motorhome, caravan and campsite fire safety issues, along with links to relevant documents and guidance.

Most sites will fall within the remit of the Regulatory Reform (Fire Safety) Order 2005. This is because it applies to all premises, with a number of minor exceptions. Private dwellings is one, (This would include effectively a motorhome or caravan provided it has not been let out.) See Article 6. You can view a copy here.

Perhaps the best way to explain this, is to think about a block of flats. The common area such as the staircase (think of site area) will come under the Fire Safety Order, but inside your flat (think of inside Motorhome) will not. The issue in our block of flats though is the front door, if this is not shut or made fire resisting, a fire in your flat could impact other people living nearby, so requirements are put in place to protect them (think here of the separation distance between motorhomes!)

The key areas for sites are Articles 8, 4 and 9. Article 8 covers the duty to take general fire precautions. You can find a link to article 8 here.

Article 4 defines what "general fire precautions" means and the area that is relevant for sites as it refers to "measures to reduce the risk of fire on the premises and the risk of the spread of fire on the premises".

Article 9 requires you to carry out a risk assessment to identify the fire precautions you need to take. You can find out more about risk assessments and recording the outcomes here.

The Fire Safety Order will also apply to a temporary site, such as a school playing field for a rally. A risk assessment is required to identify the general fire precautions needed, including preventing fire spread.

To help the responsible person, the Government have published a number of guidance documents for different types of premises. These guides have a special legal status, although they are not an approved code of practice, they are the bench mark standard the fire service will use when considering if your risk assessment is suitable and sufficient.

The primary guide will be the "sleeping accommodation guide". You can view a copy of this guide here.

This is the correct guide because in the introduction under "who should use this guide?" it includes the common area of park sites, i.e. campsites.

This guide goes on to give more information on caravans and tents on page 50 which states:
"Fire can spread rapidly between caravans and between tents, if they are too close. Separation distances between units should be applied, e.g. 6m spacing for park homes. Further guidance on caravan and tent fire precautions can be found in BS 5576,80 circular 14/89 Model Standards 81 and BRE IP 15/91.82"
This guidance about 6m is specifically for Park Homes, because that is the example used.

The Confederation of Fire Protection Associations in Europe (CFPAE) have issued guidance for fire safety in camping sites. You can view a copy here. This states that it reflects best practice developed by countries of CFPA Europe.

This European guidance states that "The free distance between each camping unit should be 3m preferably 4m" and a minimum of 1.8m between any awning or car and any neighbouring unit.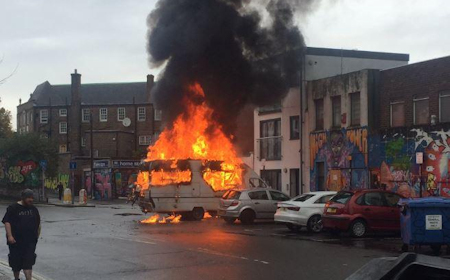 Motorhome Fire
6m where has it come from?
Historically, there were model standards produced under the Caravan Sites and Control of Development Act 1960, and this guidance was subsequently updated following fire tests in 1989. You can view a copy of the guidance here. There are 2 things to note in this circular. Firstly under Paragraph 5 it states that.
"These are good practice on sites for residential mobile homes or static holiday homes. They are not intended to apply to other caravan sites".
Regarding separation, under density it states:
"The minimum spacing distance between caravans made of aluminium or other similar material with similar fire performance properties should be not less than 5 metres between units, 3.5 metres at corners.... ..Where awnings are used, the distance between any part of the awning and an adjoining caravan should not be less than 3 metres"
This guidance reflects the findings of some live fire tests carried out by the Building Research Establishment and published in 1991.
Can a Local Authority or Other Authority insist on 6m as a Condition of Licence due to the risk of fire spread?
The answer here is an absolute NO, not any more.

Why can't for example a national park authority insist on this? This is because it is a requirement under Article 43 of the Fire safety Order, you can view here.
if:

(1)(a) an enactment provides for the licensing of premises in relation to which this Order applies, or the licensing of persons in respect of any such premises;
(b) a licence is issued in respect of the premises (whether before or after the coming into force of this Order); and
(c) the licensing authority is required or authorised to impose terms, conditions or restrictions in connection with the issue of the licences.
(2) At any time when this Order applies in relation to the premises, any term, condition or restriction imposed by the licensing authority has no effect in so far as it relates to any matter in relation to which requirements or prohibitions are or could be imposed by or under this Order.
This means that because general fire precautions including fire spread can be imposed under the Fire Safety Order, it can not be imposed by another Authority except the Fire & Rescue Authority.
Summary
In summary then, the responsible person for a site should have risk assessed the site from the point of view of fire safety, taking into account the risk of fire spread from one unit to another. They will then have come up with their own site rules as to what that distance should be. They will have to justify to the Fire Authority how they have come up with that figure, if challenged.

Fire Decisions Limited can assist in all aspects of the production of this information. We can assist in all aspects of the production of this information.