Fire Decisions Ltd - Specialising in all aspects of fire safety related issues
About Fire Decisions Limited
Fire Decisions Ltd is owned by Adrian Brown, who set it up on retiring from the Fire Service to provide specialist fire safety advice to employers and building owners to assist them in carrying out fire safety risk assessments, fire safety management and fire strategies. The company also provides some other bespoke fire and business continuity related services.

We felt there was a need for a change and a professional bespoke service. Our driving force was seeing too many poor quality fire risk assessments, written by people with limited or no fire safety experience and assessors who rush through a visit, with limited interaction with the buildings responsible person. Then charging large amounts of money to do this work.

Having said that, we do know there are also some very good companies providing a professional service.
So what makes Fire Decisions Limited different?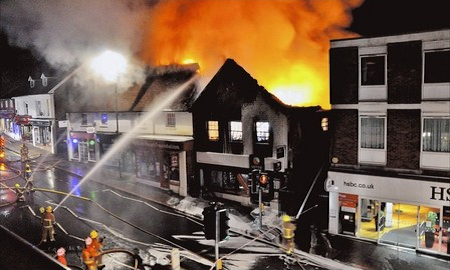 2 bored teenagers set fire to a bin too close to the rear of the building, £2 million of damage, shops taken out of use for months.
You will see detailed below Adrian has extensive experience both in fire safety and dealing with emergencies. Having this experience means that he understands how fires behave in buildings and what can be done to help prevent them.

When we carry out a fire risk assessment, we will visit your premises, meet with you, and explain about the assessment. At the end of the audit and before we leave the building, we will highlight any major issues to you. We will then go away and complete the fire risk assessment details, this will include recommendations and where necessary a plan of the premises, log book etc. You will get this in a hard copy as well as an electronic copy on CD. We will then meet up with you and explain in detail the findings of the risk assessment and if need be, go back through the building to explain any issues highlighted. We remain available to provide assistance and advice.

We are not a fire alarm company or linked to any such company. The same with fire extinguishers, we will not try and sell you any.

If we think you have an under provision we will explain why and where. Similarly if we think you have an over provision we will tell you. You can then decide if you want to reduce the number or not, something to consider if you are on an expensive contract with a fire extinguisher servicing company.

Our pricing structure reflects the size of your building and the work involved. As a small professional company that does not sub contract out the work, we can keep our overheads low, which is reflected in the price.
Biography
Fire Safety Experience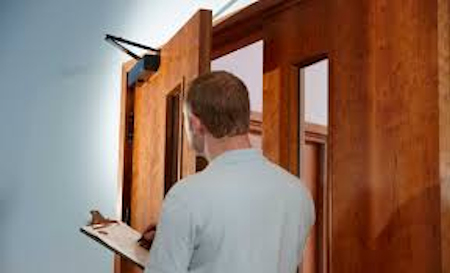 Adrian conducting an inspection
Adrian has 30 years' experience in the Fire & Rescue Service and within that, over 20 years' specialist fire safety experience and he has undertaken all roles within fire safety, rising through the ranks from Inspecting Officer to that of Senior Fire Safety Officer and Director of Prevention and Protection.

He spent a number of years as the Fire Safety District Officer in the City of Brighton, becoming involved in numerous fire engineering projects including the rebuilding and certification of the Churchill Square shopping centre, and also the Dome entertainment complex.

He is used to undertaking inspections of all types of premises, from small hotels, large industrial building, large places of public entertainment, to hospitals and has extensive experience of working with developers and building control officers at the design and development stages of building. He has also been involved in dealing with issues around ensuring fire service access in accordance with the Building regulations and Local Acts.

As Senior Fire Safety Officer he was involved in a number of successful prosecutions of companies for breaches of both fire safety and petroleum legislation. Through this he has an in depth knowledge of all fire safety legal matters. Such that his knowledge was accepted by the Bar Council under the Bar Direct scheme to enable him to instruct Barristers direct rather than going through Solicitors.

He has also undertaken the role of Senior Petroleum officer on behalf of East Sussex County Council and Brighton & Hove City Council.

Having attended the old style Specialist Fire Safety Officers course which was passed with Distinction, he continues to attend numerous courses and seminars to maintain his competence.

Within the Fire Service Chief Fire Officer Association (CFOA) Adrian was involved through the South East Group in preparation for the Fire Safety Order including the development of the revised risk based audit form. He was also the lead with Brighton and Hove City Council in developing guidance for Houses in Multiple Occupation with the advent of the new legislation both for the Local Authority and the Fire Authorities.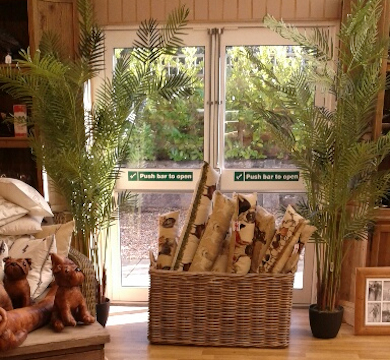 So what exactly does 'Keep Clear' mean?
Other work with CFOA includes Chairing the CFOA Compressed Air Foam Working Group for 4 years, being the Regional representative for the National CFOA Prevention Committee and also the Regional representative on the national Command and Control Working Group.

He has also previously served as the Fire Service Representative on the board of the Residential Sprinkler Association (since merged into BAFSA.)

Following his role in investigating the circumstances of the explosion that killed two fire officers, Adrian was also involved in developing the multi-agency explosives group within Sussex. He then took over as the Fire Service representative for a joint agency working group, working with the HSE, CBI Explosives Industries Group and representatives of the explosives industry, to develop guidance for the explosive industry with regards to General Fire Precautions on explosive sites, which now fall under the Fire Safety Order.

The resulting guidance has now been published on the Explosive Industry Group website.

Other work that Adrian is involved in includes, being an associate lecturer at the Fire Service College, Moreton-in-Marsh and recent courses he has been involved in, include the NEBOSH Fire Safety, Building Regulations and Safety for senior managers. He is also involved in the Fire Service Charity Operation Florian and last year undertook a research project in the Republic of Moldova on behalf of the British and American embassies there, looking at how the Moldovan fire service deal with incidents and investigate the causes of fire and how these could be improved.

He is a Fellow of the Institution of Fire Engineers (FIFireE) and also holds a Master of Business Administration (MBA) in Public Service Management.

Fire and Accident Investigation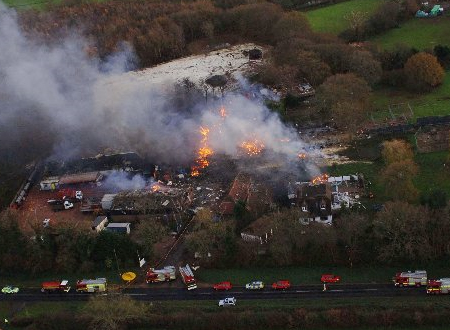 Marlie Farm Firework Factory incident in 2006 - Adrian Brown was lead investigator following the death of two Fire Fighters.
Adrian first started with a specialist role of a Fire Investigation Officer in April 1998.

He has passed the Institution of Fire Engineers examination in Fire Investigation and in September 1998 attended a Fire Science and Fire Investigation short course at the University of Edinburgh.

He has attend numerous fire scenes since then to establish the most likely cause of the fire, which frequently involved working with both Sussex Police Scenes of Crimes Officers, the Forensic Science Service and independent Forensic Fire Investigators. He has also been required to attend Criminal Courts and Coroners courts to give evidence as the Fire Service Fire Investigation Officer.

Between 2002 and December 2006 he undertook a supervisory role for all fire investigation matters within East Sussex Fire & Rescue Service.

From December 2006 until July 2008 following the double fatality of two Service personnel at a firework factory, Adrian was appointed as the lead fire service investigator for the incident. This included being responsible for running a team of investigators, carrying out interviews and investigations, liaising with other agencies including the Police and HSE, and drafting the significant findings and full report.

He continues to use these skills, most recently assisting an organisation with the investigation into a serious accident involving a member of staff whilst undergoing training.